The second edition of Playcon, the largest games development and esports expo in Malta, will be held in the first week of November, at the MFCC in Ta' Qali.
This is being organised by GMR, with the support of Gaming Malta and the Ministry for the Economy, Lands and European Funds,
Playcon will consist of 5000 square meters of interactive and educational space where experts in the sector will be showcasing their digital skills.
The video game and esports sectors are among the fastest growing economic sectors worldwide. Playcon will be an opportunity for many students to expose themselves to this sector and be able to better understand and appreciate the careers that they can embark on for their future in the digital sector. This will be possible with the participation of more than 20 local associations and companies.
During Playcon, a Games Dev and Esports Summit will also be organized with the aim of bringing together the best minds in this sector to share their knowledge and work experiences in these industries on a local as well as an international level. With over 40 speakers, the summit will be held over a period of one day, during which it will offer a networking opportunity for those interested in the sector.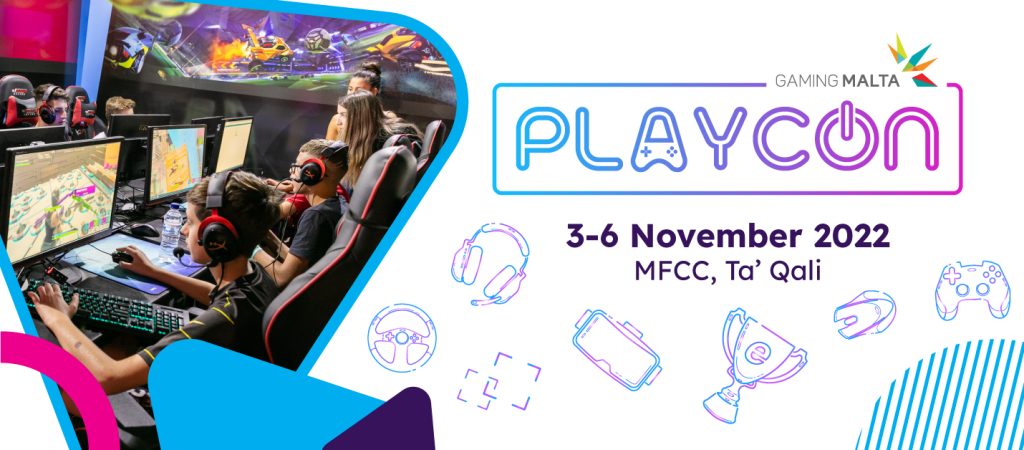 It is worth noting that Malta has around 20 companies that develop video games, and this should serve as an opportunity for Malta to be better positioned as a destination for foreign investment in this digital sector. International companies such as Ubisoft, Keywords Studios, Exient, and ESL will be part of Playcon. They are considered among the best video game development companies as well as international esports competitions.
During the days of Thursday 3rd and Sunday 4th November, more than 6000 primary and secondary students will be visiting this expo where they will be participating directly by attending coding sessions which are the basis of every game. Educational information will given on the esports sector, such as the competitive aspect, job opportunities, as well as information on how to maintain a sustainable balance even playing for recreational or competitive purposes. This will be done with the involvement of the Ministry for Education, the University of Malta and MCAST.
Playcon will be opening its doors for free to the public during the weekend, on Saturday the 5th and Sunday the 6th of November. On these two days, a number of esports competitions will be organized where those familiar with the games Fortine, Tekken 7, and Sim Racing can register for competitions with prizes that will be held during this weekend.
At Playcon, a number of world-renowned players in Tekken 7 will be attending, among them the South Korean JeonDDing, the American Anakin, and the Pakistani Arslan Ash. These players have reached the highest levels in competitive esports and have won various awards in the current edition of Tekken.
Parents will also have the opportunity to spend quality time with their children in various free-to-play areas where games such as Fortnite, Tekken, Fifa, Roblox, Sim Racing, CSGO, Rainbow Six, and Rocket League will be played.
During this expo, a number of video game development companies based in our country will be exhibiting the games they produce, with the public having the opportunity to experience these first-hand.
For more information about the expo, one can visit Playcon.gg.
Local company GMR is also celebrating the tenth anniversary of its establishment as a video games and esports company with the aim of offering great opportunities and experiences for young Maltese.