Thanks to the collaboration between GamingMalta and ESL, the ESL Pro League is back on the Maltese islands. Indeed, the premier CS:GO tournament kicked off in February, and now the end is drawing near. Accordingly, in this featured article, we'll be previewing this final weekend together which you can watch live at the InterContinental Malta, Saint Julian's!
ESL Pro League Season 17 – $850,000 On the Line
So, let's paint the picture on how we arrived to this final weekend.
To begin with, 32 of the best CS:GO teams in the world were invited to compete for this league-style competition. Seeded into four groups of eight, each team did their utmost to make it through four triple-elimination format groups.
From each group, only the top 4 progressed to the Playoffs. Seeding for the bracket is as follows:
Group Stage Winners – Quarterfinals
Group Stage Runners-Up – Round of 12 (High Seeds)
Group Stage Third Place – Round of 16 (High Seeds)
Group Stage Fourth Place – Round of 16 (Low Seeds)
Within this final stage of the competition, teams have the tall order of having to battle through a single elimination bracket, where a single loss results in a team being sent home. Each match is a BO3, while the epic Grand Final looks to be a legendary BO5 match-up.
Apart from the $850,000 on the line, there are also a tonne of ranking points on the line together with the following seeds for the overall champion:
IEM Cologne 2023
BLAST World Final 2023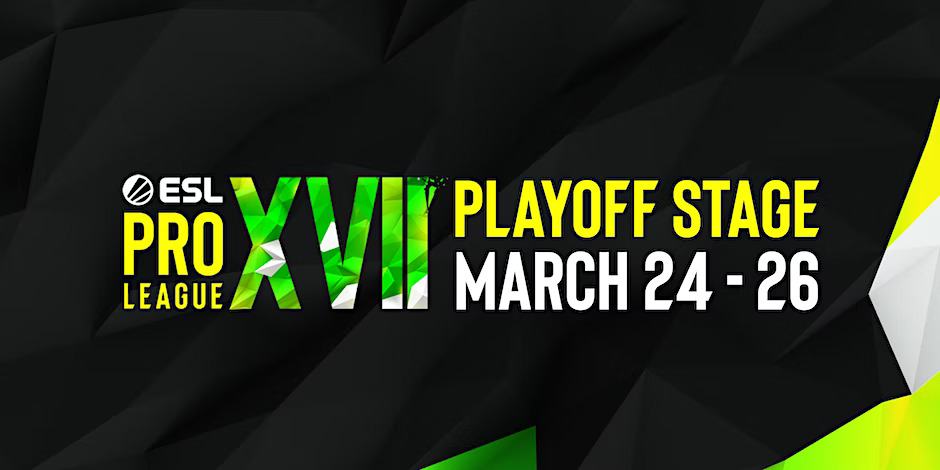 ESL Pro League Season 17 – Playoffs Schedule
The following are the final 16 teams that will be competing in the single-elimination Playoffs, seeded as follows:
Quarterfinals:
Heroic, forZe, Cloud9, Team Vitality
Round of 12:
Outsiders, FaZe Clan, MOUZ, ENCE
Round of 16:
Natus Vincere, 00 Nation, FURIA Esports, Fnatic, paiN Gaming, Team Liquid, G2 Esports, Movistar Riders
While there are a tonne of matches to look forward to, it's at the Quarterfinals and onwards that the competition will truly take off. Below is the full schedule for the ESL Pro League Season 17 Final Weekend:
Quarterfinals (23rd March)
Heroic vs TBD (15:30 CET)
forZe vs TBD (19:00 CET)
Quarterfinals (24th March)
Cloud9 vs TBD (15:30 CET)
Vitality vs TBD (19:00 CET)
Semifinals (25th March)
TBD vs TBD (15:30 CET)
TBD vs TBD (19:00 CET)
Grand Finals (26th March)
EPL Season 17 – Tickets on Sale Now
All of this action will be taking place in the heart of St.Julian's at the InterContinental Hotel between the 24th and 26th March:
Open to anyone above the age of 18 years, there are two options to purchase tickets as follows:
1 Day Ticket – €10 – valid for 1 day, guaranteed seat, free T-Shirt
3 Day Ticket – €25 – valid for all three days, guaranteed seat on all 3 days, free T-Shirt
In addition, there are also a limited free walk-in tickets on the day! However, do note that the walk-in tickets are not accompanied by the awesome free "It's a f***ing family show" in your very own size.
Otherwise, feel free to bring your own food and drinks (no glass bottles) after the doors open at roughly 14:30 on each day. We'll see you there!
Feel free to check out all of the purchasing options here.