Over the past decade, the battle of PC chip sets has involved an interesting relationship between Intel and AMD as they continuously try to outdo one another. Accordingly, while AMD released the Ryzen 7000 last month, Intel 13th-Gen Chips look to be a strong reply – read on to learn more below!
Intel 13th-Gen Chips – Looking at the Collection
Before we preface this discussion, we'd like to point out that arguing over numbers and statistical figures isn't always very exciting – we'll be sure to include all the necessary links to allow you to check out all the numbers!
Anyways, unveiled earlier in September, the Intel 13th Gen 'Raptor Lake' chips launched last week on October 20th. For those unaware, the term 'chip' is a colloquialism for what's known as a CPU or 'central processing unit'. Indeed, the CPU is the brain of a computer program. Naturally, the intense rivalry between AMD and Intel derives from the fact that CPUs are an essential component enabling the most powerful computers in the industry.
As always though, Intel is releasing the series of CPUs with a number of options available – here's a brief look:
i5-13600K
i5-13600KF
i7-13700K
i7-13700KF
i9-13900K
i9-13900KF
As you go down the list, chips become more powerful, offering more cores and threads as we'll dive into later.
Intel's approach into this incremental upgrade involving evolving the existing hybrid architecture from the previous generations, offering the following according to their marketing:
Up to double digit performance boost
Up to 24 cores and 32 threads
Enhanced overclocking features
AI M.2 Module
Socket-compatible with Alder Lake systems
Of course, in the industry of CPUs, marketing means nothing – let's see what tests have found out so far.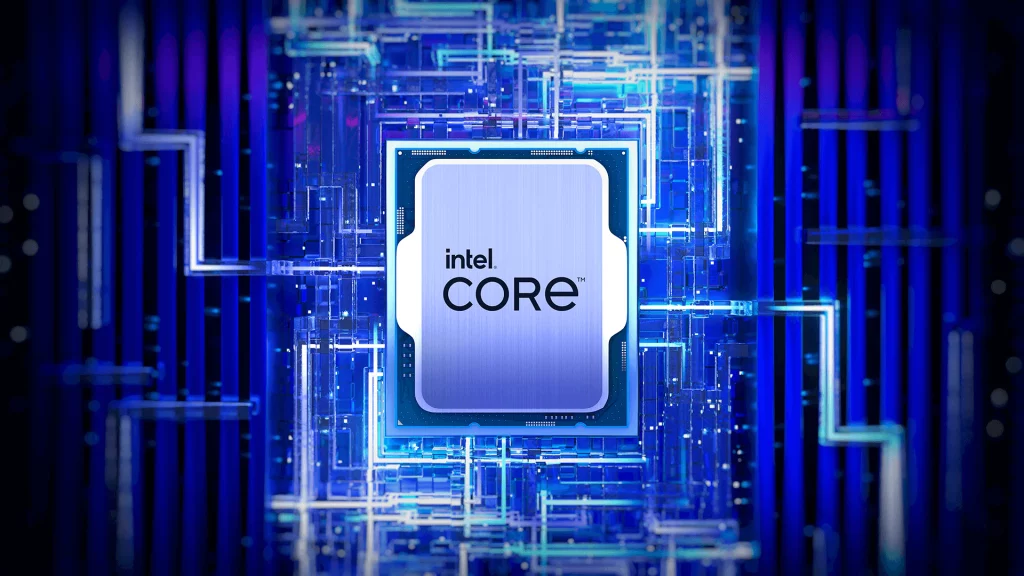 Comparing the Performance to AMD
Leaks and predictions for the Intel 13th-Gen chips described the performance as next-level. Well, the 24 cores and 32 threads of the flagship model, the i9-1300KF seems to back this up nicely. On paper, that's an upgrade from the AMD Ryzen 9 7950X which runs 16 cores and 32 threads.
So, what's the big deal with 'cores' and 'threads'. As a reminder, a core is a separate processing unit. By inference, the more cores, the more processing may take place simultaneously – i.e the quantity of processing. Meanwhile, a thread is a virtual version of a CPU core which helps manage processing traffic and organizes multiprocessing – i.e the quality of processing.
Personally, getting a hold of these CPUs for testing is rather difficult. However, reputable sources on the internet have had the chance to place the CPUs side by side and run benchmarks. Here's a concise look at one conducted by WePC:
Furthermore, other comparative tests are also available online, where frame rates in particular video games have also been compared – take a look below at another example from WePC:
Accordingly, at first glance, there seems to be an improvement across the board for the Intel chip set compared to the AMD Ryzen 7000. However, there are multiple factors which need to be accounted for such as the accompanying GPU, thermal performance and more as outlined in a video we'd recommend from Linus Tech Tips.
Is it Truly Worth It?
Finally, let's take a quick look at pricing for the 13th-Gen Intel CPUs:
i9-13900K – $589
i9-13900KF – $564
i7-13700K – $409
i7-13700KF – $384
i5-13600K – $319
i5-13600KF – $294
Let's compare this to the latest from AMD, the Ryzen 7000 series:
7950X – $699
7900X – $549
7700X – $399
7600X – $299
The early findings are showing that this year, it seems that Intel's offering better prices for better performance – especially those with high-end PCs.
However, true value will be determined by the individual depending on your workload and the components of your PC.
We hope you enjoyed that early look – we can't wait to see what further testing finds! All we can safely say is that we're loving the competition which continues to brew in the CPU space, it simply benefits all of us.
For more news on technology, esports and gaming, visit our news site here: https://playcon.gg/news/